Another retraction... I'm like the Private Eye of blogs. Well, no-one is suing me, but my conscience is pricking me. This time it's those mean
comments I made about scrappy little New York parks.
A recent visit from my favourite little sister re-opened my eyes to the magic of Central Park. We walked from the Natural History Museum on the west side, across to the Met on the east, via the
Ramble
, the boating lake, and its little cousin the model boat pond. Plus we consumed the best icecream my favourite little sister has ever had - those
Van Leeuwen
dudes know just what to do with a roasted banana.
We also took in the
High Line
, of course, and enjoyed cups of tea in both
Bryant Park
and
Madison Square Park
. Both of which are charming little city parks (if a little over-run).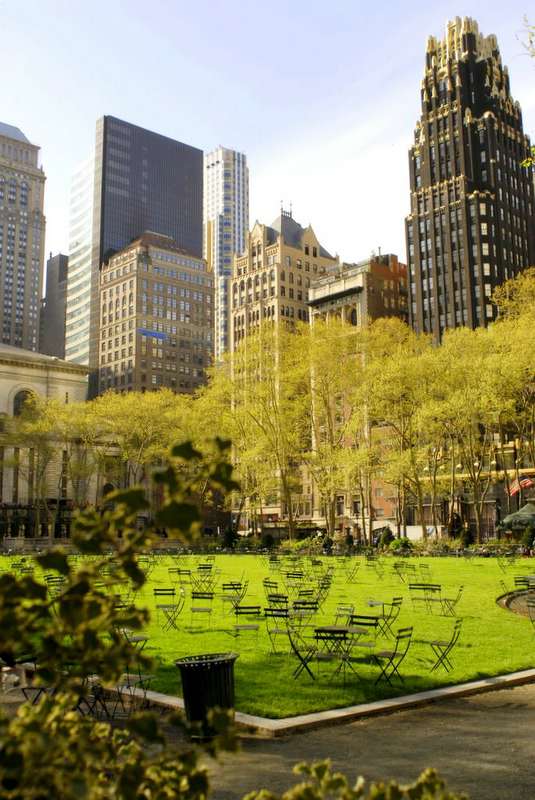 The lovely Bryant Park.
But most excitingly for the park lover in me - and thanks entirely to my favourite little sister - I have discovered the joys of the lesser known
Riverside Park South
. It's a relatively new park, below the Trump Place buildings on the West Side Highway, up in the 60s and 70s.
Until recently
my riverside runs
only took me as far as 55th Street, at which point crippling pain sent me hobbling back home like a lopsided pixie. Then my favourite little sister, who happens to be a brilliant physiotherapist, told me that
my gastrosoleus complex was so tight it was not allowing the old tibialis posterior to function correctly. No wonder it hurt.
God bless the NHS! After a couple of weeks of targeted stretching and strengthening exercises, I have added another couple of miles, or twenty blocks, to my run.
Now I get to enjoy the lovely winding paths, interesting public art, windswept marshes, ghost piers and all round envigorating experience of the Riverside Park South. It has a low profile, quite the opposite of the jam-packed High Line, and I suspect it's a park for locals. The rest of New York is missing out.
And I was wrong: New York City has many excellent parks. Sorry NYC...