Last night TLOML and I went out with our favourite New Yorker to celebrate Rosh Hashanah. We are not Jewish, and she is not especially observant, but it's a certainly a great excuse to go out for a nice dinner. She may not have a seat for the High Holidays
(which can run to $'00s)
, but she had a reservation at a quality Japanese restaurant and that's good enough for us.
We dined at
Matsuri
which was the hottest restaurant in town in 2004. That's how we like our fancy restaurants - about seven years after they were too cool to get into. Although they insisted we couldn't move our reservation - perhaps they thought it was still 2004? - the cathedral size space was half empty. Still, it's gorgeous in there, and we were distracted enough by the food not to mind the absence of buzz. A surprising sort of yuzu granita on our kumamoto oysters stopped us in our conversational tracks.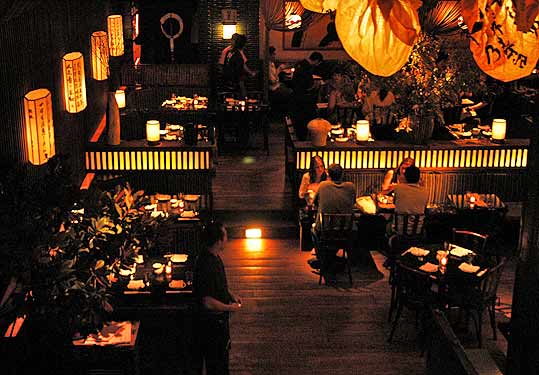 Matsuri seven years ago when every table was full
We ate well and drank even better. And so we emerged, all excited about the Jewish New Year, all warmed up with sake and sushi, on the border of the
Meatpacking district
.
Like Matsuri, the Meatpacking was pretty hot in 2004. TLOML and my favourite New Yorker reminisced at length about drinking there in the early '00s, when a night out in the 'white hot' Meatpacking was an essential ingredient of any weekend in NYC. Edgy times.
I reminisced about those episodes in S&TC when Samantha moved here and had that big fight with the tranny hookers. Ah, season three, those were the good times.
Samantha in the Meatpacking
Nowadays, the Meatpacking is pretty solidly packed with fancy shops and restaurants. I understand the tranny hookers have moved to a different part of town. Judging by the twenty-something
Jersey girls
I see tottering around in miniskirts on a Saturday night, I assumed the hotspots have moved on too.
So we figured the
Plunge bar
at the
Gansevoort Hotel
was safe. The Gansevoort was a beacon for urban chic when it opened, around the same time as Matsuri. Hopefully by now, like Matsuri, it would be half empty. Probably full of suits too. Perfect for a quiet tipple!
Not so. Plunge was pumping, jumping and other partying verbs. The crowd was young, good looking, and if they weren't hip, they were at least trying. There were a couple of suits, but they wandered around looking bewildered but happy to discover that the hotel their PA booked for them has a bar full of hot young things gyrating. Sure, some of them may have travelled from
the other side of the Hudson
but a little bridge and tunnel spice sprinkled in the general melee was no bad thing. (A side note: my Manhattan was watery and served in a plastic glass, though there were several doors between me and the pool. Beer next time, I think.)
Judging by my sore feet this morning, I'd say we marked Jewish New Year fairly emphatically. Shana tova!