This weekend Americans will
consume 1.2 billion chicken wings
.
No, that's not what they normally consume as a nation. It's at least 3 times the number of wings eaten on a normal weekend.
It's the
Super Bowl
: second biggest day of food consumption in the US after Thanksgiving. On Super Bowl Sunday Americans all over the land get together in large groups, to eat wings and dogs and chips, and watch the two league-winning
football
teams play for the title of Super Bowl champions. It's kind of a big deal. To the point where streets are quiet, because everyone is indoors watching. Even people who don't really care about football. (I know, because I was one).
Indeed, 'tis the season of outstanding televised events, of the sort that America does so very well. I'm talking about the Super Bowl, the Oscars and the Globes, and I'd even throw in the Inauguration Ceremony too. All of these events are staged on a grand scale, fully star studded.
The Super Bowl on telly
By contrast, we have... what? The FA Cup Final? Easily 50% of the people I know don't watch that, or even really notice it's happening. And they don't have Beyonce singing at half time. The Baftas, similarly, is rather small scale and somewhat lower on glamour than the Oscars.
The best British TV event I can think of was the Royal Wedding. But we may have to wait another 30 years for such pageantry. And
the Jubilee
was just an afternoon of sheer misery, watching jaded TV presenters interviewing sodden jingoistic lunatics going on about how brilliant the Queen is. Lame.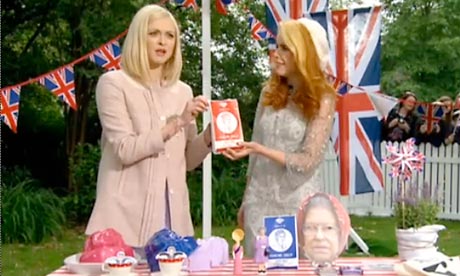 The Diamond Jubilee on telly (image from BBC)
But that's all right. We do brilliantly at many other things. Like insightful radio shows, quality TV news, and good documentaries. And thanks to the joys of cable TV and the internet (and a rather useful proxy service that allows us to pretend we're in the US when we need to), we can have the best of both worlds. I pepper my diet of The Archers and BBC News 24 with E! red carpet coverage. And TLOML can enjoy the Super Bowl.
The only downside is that our wings won't be the real thing, and we won't be surrounded by cheering Americans. But since I got used to listening to Radio 4 on a sunny deck in Malibu, I'm sure TLOML can cope with watching the Superbowl in rainy old London.