This post is dedicated to two special groups of readers:
1. Those people (pity them!) who have never spent time on Hampstead Heath and wonder why I have such
a bee in my bonnet
about living close by.
2. Those New Yorkers (thumb your teeth at them!) who think London's weather is relentlessly awful.
Today I renewed my commitment to a longstanding tradition. As per the NW5
tradition/ routine
, I took a constitutional yomp across Hampstead Heath, with 3 friends and traditional 'what did you do last night' chat. It was a gorgeous, crisp, chilly, sunny day.
See? We do get blue skies here (I shouldn't mention yesterday's wall-to-wall drizzle..)
We headed, without discussion, up Parliament Hill, the natural starting point for any Heath yomp. It was the first time I've walked up there for at least a year. The view which was so familiar - from the many years when I walked up Parliament Hill at least once a week - has changed significantly. '
The Shard
' is really shockingly tall! Anyway, that's not news to anyone who lives in London and I was roundly mocked for commenting, so I won't comment further.
It isn't just me who thinks The Shard is ridiculously tall. It's just that everyone else got over it months ago.
Then we struck out, north across the Heath, to
the Pergola
, which is something of a hidden gem. The pergola is an elevated walkway, essentially an Edwardian folly, in the grounds of Leverhulme House (the Hampstead pile of soap baron, Mr Lever, of Unilever fame, now converted into fancy flats). Even at this time of year, with bare branches and barely a bud in sight, it's a lovely place to walk.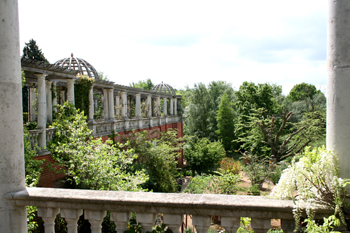 Someone else's pic of the pergola, in summer. I think you get the picture though.
Our meander took us South via the
Vale of Health
, a cluster of cottages where poor people used to live when Hampstead was a fashionable spa town. And back, along the avenue which cuts East-West across the Heath, to the Dartmouth Park side. Where the tennis courts and good places to eat and drink are.
As often happens when I mooch around NW5 with friends, we bumped into some other friends doing much the same meander. Hot chocolate at
Kalendar
as the final light faded was the perfect end to the afternoon.
On the home straits, as the sun sets over Hampstead
And that pleasant, and rather pedestrian ('scuse the pun) afternoon, is just one of the many reasons I'm so happy to be home. The NW5 comfort bubble is as comfortable and enjoyable as ever.